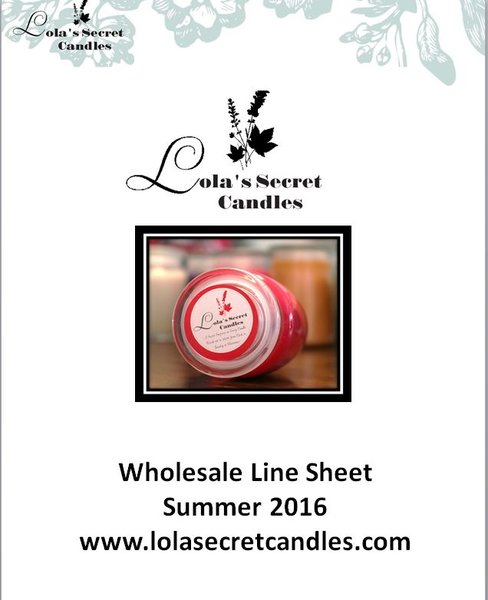 Wholesale Line Sheet
SUMMER 2017
About
Lola's candles are made from 100% soy and essential oils, bursting with breathtaking aroma. We handmade all our candles and buy all our candles supplies in Colorado.
We gladly take customize candle orders, any color with any fragrance, visit our Customer Candle Order page.
Lola's Secret Candles are not like any other candles. Our candles are set apart from the others, because you cannot wait to find out what your "SECRET" treasure will be! We offer the secret treasure as a little incentive to try our candles.
For customers that love our candles and don't need any incentive, we also offer candles without the secret treasure.
We are a proud Member of Asian Chamber of Commerce.
Professional Certifications:
1. Small Business Enterprise Certificate (SBEC), Denver, CO
2. Airport Concession Disadvantage Business Enterprise (ACDBE), Denver, CO
Summer 2016 Catalog
We offer a 16 oz., 8 oz. candle jar with lid and melts for candle warmers.
10 Colorado Fragrances
Item No. – Fragrance – Color
0053 – Alpine Night – Black
0037 – Aspen Nights – Dark Purple
0051 – Black Canyon of the Gunnison – Black
0055 – Cedar Creek - Brown
0020 – Colorado Blue Spruce – Green/Blueish
0056 – Colorado Fir - Green
0057 – Cripple Creek Woods - Turquoise
0058 – Hanging Lake - Teal
0003 – Mountain Pine - Green
0013 – Telluride Twilight - Brown
10 Tropical Fragrances
Item No. – Fragrance – Color
0015 – Bird of Paradise – Orange
0031 – Coconut Milk – White
0048 – Ginger Passion – Brown
0011 – Hibiscus Flowers – Red
0026 – Mango Papaya – Orange and Yellow
0043 – Pikake – White
0059 – Juicy Pineapple – Yellow
0002 – Plumeria – Light Yellow
0052 – South Pacific Waters – Teal
0017 – Sweet Mango Delight – Yellow
9 Floral Fragrances
Item No. – Fragrance – Color
0009 – Botanical Orchard Nectar – Yellow
0033 – Gardenia – White
0001 – Japanese Cherry Blossom – Light Pink
0014 – Jasmine – White
0005 – Lavender – Light Purple
0016 – Lilac – Purple
0010 – Magnolia – White
0007 – Rose Bouquet – Red, Purple, Yellow & Glass Glow
0028 – Stargazer Lily – Light Pink
11 Dessert Fragrances
Item No. – Fragrance – Color
0039 – Almond Pastries – Brown
0044 – Berrylious – Dark Purple
0042 – Birthday Cake w/Sprinkles – White, Yellow and Chocolate
0030 – Cinnaberries – Red
0032 – Crème Brulee - Tan
0047 – German Chocolate Cake - Chocolate
0041 – Key Lime – Green/Yellow
0040 – Pink Sugar – Light Pink
0018 – Purely Peppermint - Blue
0036 – Sugar Cookies - Tan
0038 – Warm Apple Pie - Tan
8 Variety Fragrances
Item No. – Fragrance – Color
0045 – Cappuccino Hazelnut – Tan
0027 – Fresh Brewed Coffee – Dark Brown
0012 – Channel No. 5 - Tan
0046 – Eucalyptus – Light Green
0006 – French Vanilla – White
0049 – Green Clover & Aloe – Light Green
0050 – Heather – Magenta
0051 – Irish Mist – Light Blue
5 Autumn/Thanksgiving Fragrances
Item No. – Fragrance – Color
0021 – Autumn Walk – Brown
0034 – Harvest Moon – Orange/Brownish
0063 – Mulled Cider - Light Orange
0035 – Pumpkin Soufflé – Orange
0017 – Sweet Pumpkin Spice – Dark Orange
10 Christmas Fragrances
Item No. – Fragrance – Color
0062 – Bayberry – Jade
0030 – Cinnaberries – Red
0024 – Gingerbread Cookies – Light Brown
0023 – Holiday Festival – Red
0022 – Hollyberry & Ivy – White
0033 – Home for the Holidays – Red
0018 – Purely Peppermint - Blue
0036 – Santa's Cookies – Tan
0062 – Spruceberry – Red
0020 – Spruce Christmas Tree – Green/Blueish
Policies
Wholesale Pricing for Treasured Candles:
$17.50 for each 16 oz. container candle with lid
$14.00 for each 8 oz. container candles with lid
$4.20 for each Melts
Wholesale Pricing for Non-Treasured Candles:
$16.10 each for 16 oz. container candle with lid
$12.60 each for 8 oz. container candle with lid
$4.20 each for Melts
Payment
Shipping Methods
Refunds/Returns